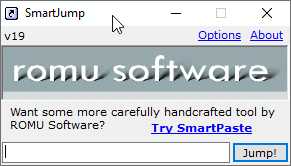 SmartJump is a tool to open PowerBuilder objects either directly from the script painter or through the SmartJump main window..
There are two versions of SmartJump: one for PowerBuilder 8 and 9, and one for PowerBuilder 10 and up. Be sure to download the correct one.
SmartJump can be downloaded here.
Best of all: SmartJump is free postcardware :-)
Information: As of SmartJump 1.2, SmartJump is no longer freeware, but postcardware. Have a look at some of the postcards sent in so far